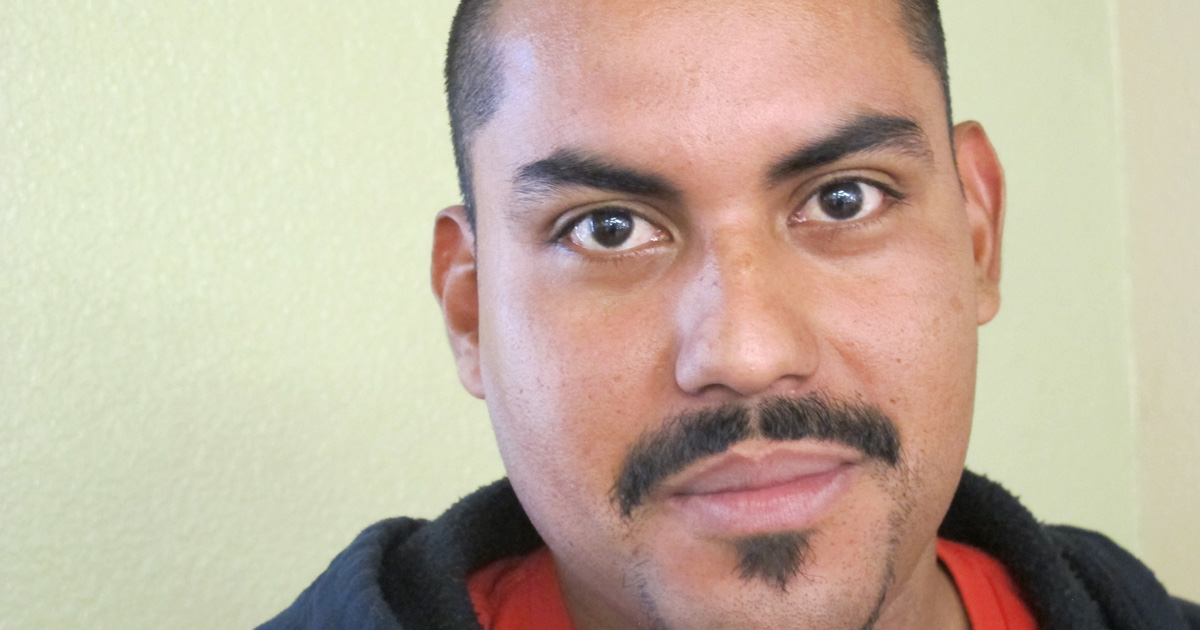 My story today is about when I was a boy. My aunt and uncle used to take me to see the cows and the Ciénega. My parents sent me to school, but I didn't go. Then for a time it became a habit, so I had to. So like, then some friends began to invite me to drink, and we started to drink; and we started to talk, and I began to like alcohol. From then on, they began to invite us; they began to invite us to smoke. And that cigarette followed a different kind of cigarette. And after that special cigarette, there was something stronger. But my real dream was to be a soccer player; but when you come from there, to be a soccer player you need to have contacts and someone that supports you.
If someone does not support you, you cannot be someone in life, I think. And then like when all this happened, all this process, my career went down the toilet. After that I started doing more extreme things, and then what I was doing back then became a habit. Sometimes I even got angry with my own family, for the things I didn't do, but I also blamed the family for the things I hadn't done.
"But I think all this was my fault, because it wasn't theirs."
After that, an uncle took me to Mexico City hoping I would control myself.
I left from Michoacán towards Mexico City, and there I stayed for about two years. I was about thirteen or fourteen. I started drinking like at ten or nine years old.
Then, my uncle took me to Mexico City, and with my uncle, well with him I got close to the church and stuff. He began to take me to spiritual retreats. I did a bit better, but if I did it was thanks to him. But it was not the same because I didn't have my dad's affection, or my mom's. I couldn't be with my family; those situations make you a little sad.
My dad made arrangements for us to come here around 2000, and until now, I'm fine and I feel happy. And I have an extraordinary family that makes me happy, right? But I could not do my soccer career, and that was the only dream I had in life. But I couldn't do it, I couldn't make it. Anyway, I thank God for where I get to be right now.
I was a month, a year or months old when my dad came (to the US). I have four brothers. I used to play soccer with my brother who is one year older. I used to always play with him all the time. We played on a field that was near my house, about five blocks away or sometimes we played in the street with friends.
All my brothers are already here. Also that brother; but he liked to study, and I didn't like to — I never liked to study.
An uncle that I grew up with, he was a soccer player. He began to teach me how to play, how to attack, and even how to avoid hitting someone, and all that. I liked playing forward, right wing. Right wing means that you'll only play in the front, on the right side; you are not to move from there. It is called right wing because there is a left wing, and so the other one is on the far right. They are the ones on the right, and the ones, and the other one playing on the left side, is always using their left foot.
I started playing around three or four years old. When I started, when we would play soccer, there was much envy among friends and all that stuff, and then when we were playing a game or finals, they'd begin inviting you to have beers. "Órale, one to refresh yourself." And from there, you take one or two, and then it becomes a habit. Because we played every Sunday, we drank then, every Sunday. Then Saturday and Sunday. I was about twelve or thirteen.
I played with older boys. Because I was a very good soccer player, I was at a higher level than others. I mean, when I was twelve or thirteen years old, I would play with twenty year-olds, or even twenty-two, twenty-three year-olds. So, the oldest would teach the younger kids, and when they began to drink, well they'd give me some.
There was a time when something happened with a friend, it happened to me here. A friend in a soccer game, we got into a fight. And another friend kicked my other friend, right there in his head. He was unconscious for about half an hour. I asked God to let him live and promised not to return to this chaos we were in. He lived, but he never was the same. After a while, some months after, they had to cut off his leg. He was diagnosed with cancer in his leg, because he never went for treatment of his foot, so after four, six or seven months, he died of cancer. He was about seventeen or eighteen years old. I saw him as one of my best friends; he was a very good soccer player.
Storyteller Juan Francisco Aviña López works and likes sports. He is from Michoacán, México.
Related Posts