Our Team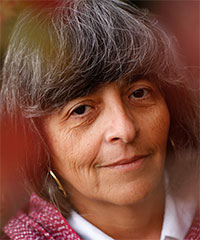 Albertina Zarazúa Padilla
is the co-founder of MiHistoria, facilitator for our storytelling workshops, and curator of our online archive. She also performs oral storytelling with Stagebridge Theater in Oakland. Born to a farm worker family in Monterey, California, Albertina attended Mills College, where she became student body president. She was a classroom teacher for over 20 years, an Oakland Education Association union representative, and a mentor for the National Latina Health Organization. She has served on the Teacher Advisory Board of the Oakland Museum of California, and on the boards of La Clinica de La Raza and Luna Dance Institute.

Laurie Coyle
is the co-founder and web producer for MiHistoria. She is a documentary filmmaker whose most recent film, ADIOS AMOR: The Search for Maria Moreno, tells the story of a migrant mother who became a leader in the movement for farmworker justice years before Dolores Huerta and Cesar Chavez. ADIOS AMOR is MiHistoria's sister project and had its national broadcast premiere in 2019 on PBS VOCES.
Screen the trailer
and learn more at 
Latino Public Broadcasting
. For educational resources, check out PBS Learning Media's
The Unsung History Makers: Maria Moreno. 

Andrea Valencia
is a translator of both English and Spanish for MiHistoria. Her work as an interpreter and translator has allowed her to delve into different industries, among them community bilingual newspapers, social justice organizations, IT companies and contemporary art. Andrea is passionate about language and stories as a means to discover the world and foster understanding. Sharing stories of the immigrant experience inspires her work with MiHistoria.

Neus Valencia
is a translator of both English and Spanish for MiHistoria. She completed her Bachelor's Degree in Translation and Interpreting with a major in Technical Translation, and is now pursuing a law degree at the Metropolitan Autonomous University (UAM) in Mexico City. She is very much interested in the role of the mediator in modern society, especially in the relationship between nations, which is reflected in language, culture and government structures.

Wendy Bardsley 
loves straddling the border between art and technology. She has been telling stories on the web since its earliest days. She was the architect and developer for PBS's
Independent Lens
series website for 12 years, and learned about so many different subjects that could be covered by documentary film. She has covered the Olympics and mountain climbing expeditions and is now  working with nonprofits, artists, and filmmakers. She was a founding Council member of the Calle 24 Latino Cultural District.
MiHistoria's Advisors

María X Martínez, M.A.
is Director of Whole Person Care at the San Francisco Department of Public Health. She serves as Chair of the Board at the Chicana Latina Foundation, where she spearheaded its Leadership Institute and was instrumental in developing
The Power of Storytelling
workshop that inspired MiHistoria. María has held various leadership positions in the San Francisco Department of Public Health, specializing in innovative problem solving, organizational change and service systems development. She is also a long time community arts advocate, and devotes her time and efforts to support beautiful, purposeful public art.

Mily Treviño-Sauceda, M.A.
was born into a family of migrant farm workers, and volunteered with the United Farm Workers at an early age. As a widow with a small son, she earned a BA in Chicano Studies with a minor in Women's Studies from CSU Fullerton, and conducted a survey among farm worker women exploring the problems they faced, including discrimination, sexual harassment, domestic violence, pesticide poisoning, poor housing, and low wages. Mily served as Executive Director of
Líderes Campesinas
until 2009, when she established the
Alianza Nacional de Campesinas
, whose mission is to develop farm worker women's leadership into a national movement.

Patricia Zavella, Ph.D.
is Professor Emerita of Latin American and Latino studies at UC Santa Cruz. Her latest book is
The Movement for Reproductive Justice: Empowering Women of Color through Social Activism.
Among her other works are
I'm Neither Here nor There: Mexicans' Quotidian Struggles with Migration and Poverty
. She is the co-editor of
Women and Migration in the U.S.-Mexico Borderlands; Chicana Feminisms: A Critical Reader; Perspectives on Las Américas; Telling to Live: Latina Feminist Testimonios;
and
Situated Lives: Gender and Culture in Everyday Life
. Patricia has received numerous awards over her illustrious academic career, and has been instrumental in framing MiHistoria's storytelling work in the context of migration, and the interconnections of culture, family, work, gender and agency.