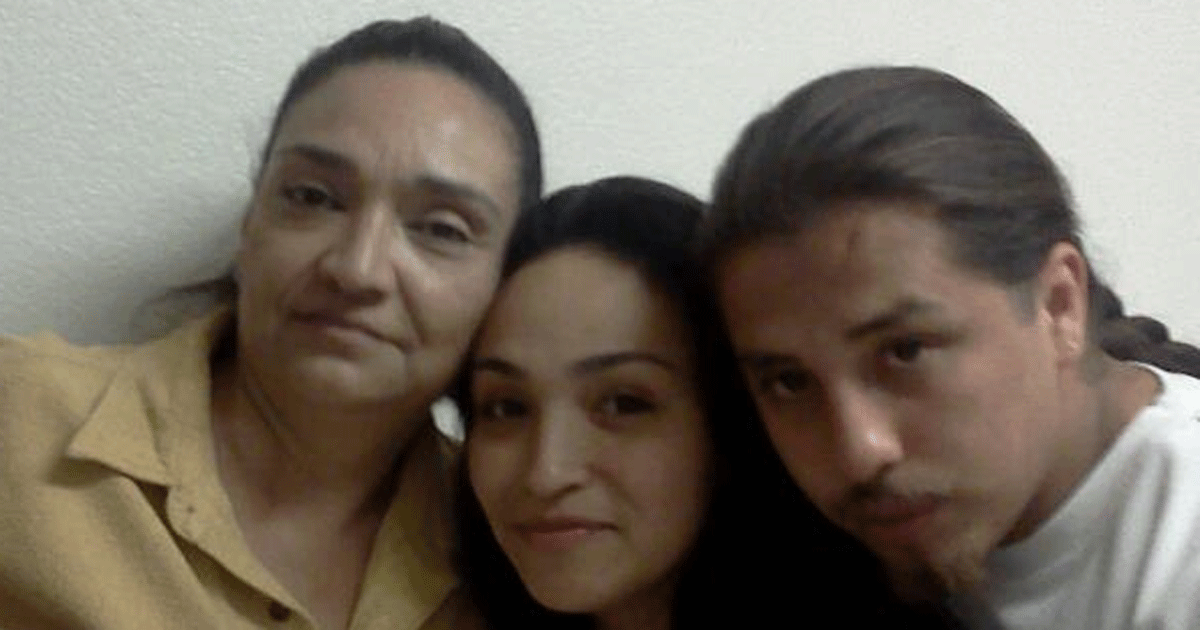 The earliest memory I have of my grandmother is when we lived in the desert; we would sleep under the stars on cots with some itchy, black blankets.
For every need we had I can remember grandma praying. This was something so amazing and powerful to see. Even as a child, I knew something grand was happening.
I can remember my tias cooking on an old iron stove. We'd all have to go out and collect wood for the cooking to begin. Tortillas always came out to perfection; along with anything else that was caught and cooked that day. We had no toys to play with so rabbit lungs became our balloons and lizards our pets.
"We also spent time living on a school bus/the ranch. We'd take baths in a river close by and sleep in a big tent on cots with those same old itchy, black blankets."
I remember these people called "the Fleemen", who would come out at night and kill our pigs and dogs. Grandma and Grandpa would always turn to prayer. One day while walking to the river, one of the "Fleemen" came riding by on his motorcycle and ran over our dog Tic. Grandma picked him up and I can clearly hear her to this day say, "In the name of Jesus!"  Then she threw Tic into the river, and he came out swimming.
My grandmother taught me faith, courage, compassion, honesty, and that anything is possible in the name of Jesus. Although I've often strayed from the path she set my feet on, I carry the seed she planted in my heart. And though my grandmother has long since passed, I can hear her voice echo in my ear.
I tell my daughters, Marquise' and Legacy, about their great-grandmother; of how I remember her with a hammer in her hand and nails in her mouth, weather-building churches or shelter. I tell them of the long line of strong women I was shaped by and of all the good grandma did. Like when she would clothe and feed the needy in Mexico, which I believe was her true calling. I tell them of how she preached from church to church: so powerful that even as a kid I'd want to stand up and shout "That's my grandma!" My simple words cannot express how much I love my grandma and grandpa and the powerful influence they've had on me.
While I was pregnant in 1997 with my youngest daughter, doctors had told me to abort my child because of what they saw in an ultrasound. Her head and neck were surrounded by fibroid tumors, and her feet were clubbed. They told me she was lacking oxygen and that she'd be severely handicapped. My response to them was "If God wants her then he'll take her." I was in and out of the hospital for months. Then one day I began to go into premature labor. I remember being alone and hungry in the hospital. I asked the doctor if I could have something to eat. He told me I couldn't because they would be coming back later to "scrape" me out. That's when my faith kicked in. I got honest with God and found the courage to pull through. I prayed that night –  just me and God. I asked that whatever happens let it be in the name of Jesus. Doctors were surprised to find me still pregnant the next day.
Needless to say, I carried my daughter to term, nothing wrong with her except her little j-like feet that were fixed with surgery. I thank God that I had a grandmother who loved me enough and taught me to pray. Today I read my bible and try to grow that seed in my heart. I listen for grandma's voice to echo in my ear. I hope to live long enough to tell my grandchildren about their great-great-grandmother and of all her teachings. And to let my youngest granddaughter know that her name "Echo" comes in honor of my grandmother and our ancestors, who often echo in our ears if we just stand still and listen……
Storyteller Diana Franco Madrid shares:  I'm the third oldest granddaughter of Maria Moreno. I was born in California to Maria's oldest child, Lillian. I, along with my sister Roselinda, worked the fields alongside my mother and aunts. My mom moved us to Chicago where I spent some thirty years, never forgetting where I came from. I have two daughters, Magdalena Marquise' Madrid, named after my Uncle Abel's daughter, who did not live long enough to see her teenage years, and my youngest Ed'dyana Legacy Madrid, who I named for grandma and our ancestors. I work in an assisted living facility as  Lead Medication Tech. I guess helping others runs in our family!
Related Posts