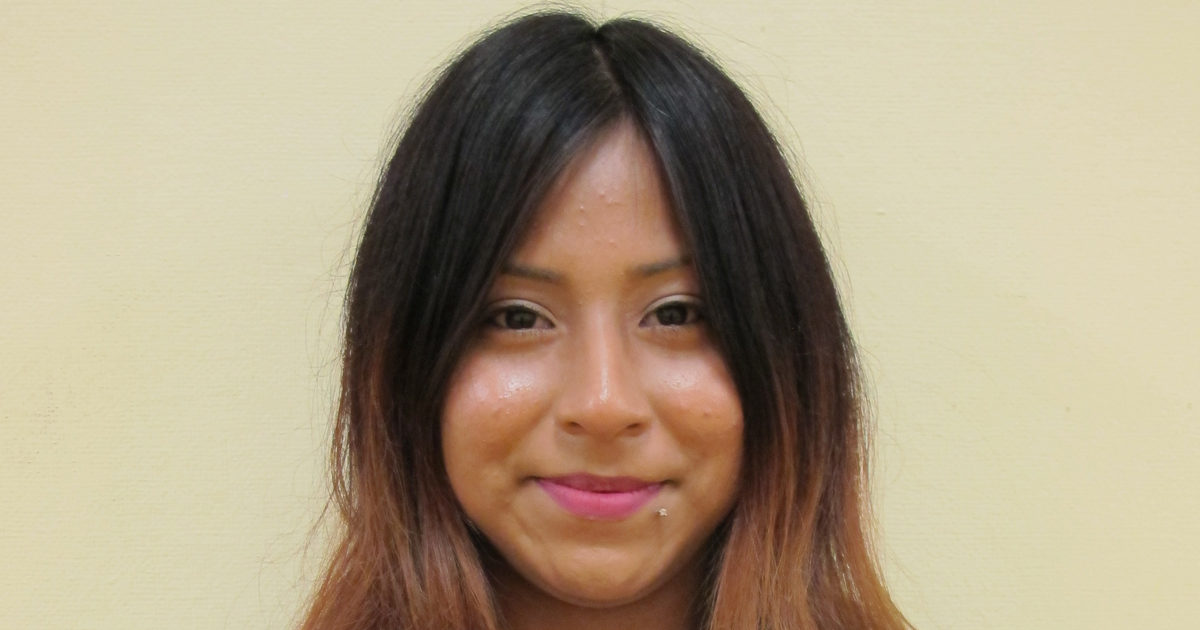 I feel grateful for everything that life has taught me, mistakes, culture, family. For the people who made less of me, for the ones who supported me, for those who said I could not be someone because of my face, my skin color and my culture. Because I was born to an environment with love, peace and nature, I grew up in a very happy life with my grandmother, school, and my friends; we used to encourage each other to do anything no matter what. We were very ignorant; we did not know life. We only knew how to play and learn.
All my problems have helped me get here, to this level, so I can help people like me. I had a daily life, but I know there are many other people who have harder daily lives, without clothing or food, or children who dream of going to school, but their parents do not have the means, or the idea that going to school will change anything. There are many differences in life. I believe that education comes from our own life; however, the United States, and other countries have been more concerned about money and power, and about reaching their goals no matter whom they harm, no matter which family they leave with nothing. This is the problem.
Education should be a right for every person, same treatment with more opportunity, no matter your race, color or if you are a person with money or without money, everything should be equal in humanity.
I want to help people like me. Despite the many challenges we have to face in life, I am here, waiting my turn. I am fighting for my dreams because I know that there were people who motivated me in life, and motivation is not something that everyone gets. I came here with a dream and a goal: to become someone in life, to have a good education. I do not want to just make money or have a career that drives me to be successful. My goal is to be happy with people. I want my future students at school, to teach them about the value ​​of life. I want them to know that there will always be people who will not believe in them or who will treat them as if they were nothing. I want to be a motivation to many students. I want to see more children achieve their dreams, as I did. I want them to value the things we have. That we be grateful for every meal, shoes, and clothing and that we should cherish what little we have.
"It is not right to want to have more luxuries, instead we should know how to share with those who do not have, and help them to achieve something. I want them to learn not to be deceived by power and money."
I want my students to live life and learn from it, because nothing is easy. It is possible that for others life is easier, but that is why we must keep moving forward. We should never turn away from our religion, our culture, our region, or our country and we should feel proud of where we came from.
When I got here, my first days were about surviving and analyzing my new life, my new family, new people to meet, a new environment in which to live, new things to have. It was a big change for me to leave my family, my sisters, my mom, it was the hardest thing for me, but for that reason I do not give up. Other problems or better yet experiences have been my motivation in this country. To live with a new family, who do not support you, who criticizes you all the time, who acts in such a way that they force you to think the way they do.
My family would always fight and criticize everything, I did not like it when they talked about me, or ordered me around when they disagreed with me. I am thankful for this family because thanks to them I have learned many things; I've learned that there are people who are worse off than I am. Moreover, I think that if I can, others can too. I also did not have a mother nor do I have great wealth. I also did not have a very good family, but I know deep down they want the best for me. I try to give advice to my friends. Many parents do not communicate with their children, and this makes their children want to be away from them, and want to find an environment somewhere else, which is not necessarily a good environment.
Some parents do not value education because they didn't have the opportunity to study. They think that just because they are at a certain level in life, their children also have to be at the same level – no matter if I have an education or not. On the contrary, there are parents who think education is the most important thing, that their children can do better than they did, and they support you. However, sometimes opportunities do not happen or there is no money or rights, as it happens here in the US. Supposedly, education is the most important thing in the United States, but they make you pay for everything, making you feel less every chance they get. I do not have the same opportunities as other students because I am an immigrant. I came here not knowing any English, but I wanted to continue fighting, eventually my chances became slimmer and slimmer. When I wanted to start working or helping communities, and earn a bit of money, the fact that I was not a resident made me less. I could not apply to the same things, or have the freedom to do many of the things I want to do in the future, and I still cannot, which really hurts.
Storyteller Fernanda Martinez is from Mexico, goes to California State University Monterey Bay (CSUMB), and is the first generation from her family to go to College.  She wants to help everyone and make the world better for all of us.