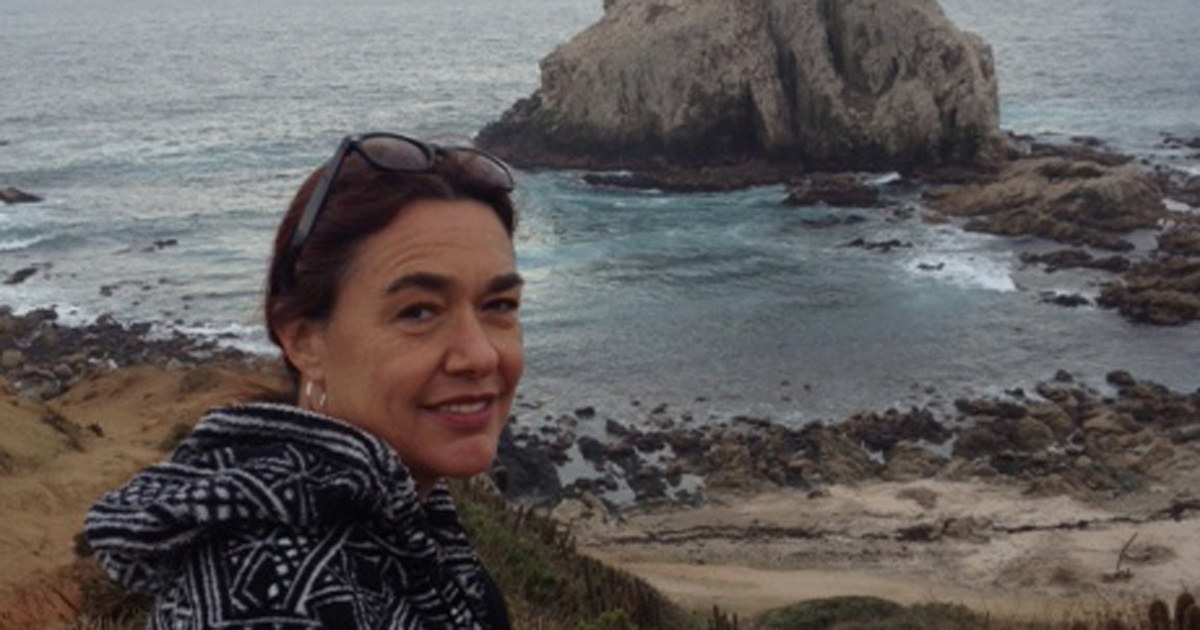 The story I want to share is about the learning, healing and transformation of my cultural roots; making peace with leaving my homeland, relocating in Santa Cruz in 1999. I am now "living my American dream," finding purpose by serving the Latino community locally, addressing cultural differences, and the enrichment of cultural diversity at the local and global levels.
I was born in Buenos Aires, Argentina, to an immigrant Jewish family from Poland. I grew up during the military dictatorship as historical background, and I felt alone, not belonging, and with the despair for not having a future. I left my country at 32, con pena y sin gloria, with the dream of finding a community where I could share my gifts and talents.
In 1998 I came to the United States of America, and here doors opened for me. I completed two digital media certificates at Cabrillo College and a Masters Degree in Counselor Education at San Jose State University. In 2008 I got a job that granted me with the permanent residency, and then I was granted American citizenship in 2014.
From 2005 to 2015 I worked as the Latino Cultural Liaison for Hospice of Santa Cruz County offering end-of-life care access, outreach and education; and providing grief support services to Spanish-speaking Latino children, youth and adults. This professional experience—of much learning, healing and transformation—was very deep and valuable for me, and made a difference at the professional and community levels for myself and others. Reference to my work was included in a recent book about the history of the hospice movement, Changing The Way We Die, Compassionate End Of Life Care And The Hospice Movement. (F. Smith and S. Himmel, 2013)  "Chapter 13, Cultural Revolutions." In 2014 I received the Community Hero Award from the Community Assessment Project of Santa Cruz County for contributing to the goal of health care with my compassionate and culturally sensitive work in end of life care in the Latino community, and cultural humility for health care providers.
So far this is the history of the "future" I made for myself here in my new adopted country. But this is not all of my truth, but just half of it.
My elderly parents stayed in Buenos Aires. Since 2010 I have been fortunate to be able to travel once a year to visit with them. This gave me the opportunity to reconsider the personal, family, and historical reasons for my leaving my homeland; and to reconnect with parts of myself I had left behind. By doing this I was confronting a distinct pain that had been present in my heart and memory all these years.
In August 2015 I went to visit Buenos Aires with my Chilean partner Fernando, who asked me an important question, "Silvia, in the face of the adversity and hostility that you felt while growing up, what was it that you did (to overcome it)?"
What had I done? My immediate answer was: I suffered, did lots of therapy, and then I left the country. But this was not what he was really asking me about.
"Thinking about this more deeply, I realized that what I did since I was 15, was to enter into a journey of self-discovery, healing and spirituality; a path of inner work. It was this search and inner work that allowed me to learn about myself, heal wounds of what was and of what it never was, and to find internal resources and strengths that I didn't know I had when I left Argentina, and to make my "American dream" come true."
There is a quote by mythologist Joseph Campbell, "The privilege of a life is to be who you are." For some people "to be yourself" does not sound difficult, no big deal. But for those of us that grew up feeling invisible and without a voice, it takes a lot of courage, commitment and determination to be who you are—and this is what I am talking about.
Today, at 50, what I have learned and want to share, is that the immigrant life journey offers us an opportunity to choose a bigger story, and claim the potential for learning-healing-transformation that we all have, because of our own history and life experience. This is inner work we have to do, an individual contribution to the collective good. I am talking about reconnecting with our cultural roots, not only for the sake of our own growth and development, but also for the collective well-being. The work is to reconnect with parts of ourselves that, on one side, could block the path towards the growth and development we want; and at the same time they give us great inner force needed to build the future we want. The task at hand is to be oneself, reclaiming the right for self-expression, to grow, and to become all you can and want to be in the context of a local and global community we are co-creating.
There are three reasons why I think it is important to share our immigrant stories.
One, there is a sector of the American people, the current dominant class, mostly white people, that seem not to know, or ignore or deny the damage, hurt and destructions that American foreign policies and imperialistic interventions have done to the Latino-American people and countries—one of the reasons why we as immigrants are here in the first place.
Two, this current dominant class doesn't seem to recognize the important contribution of the knowledge, values and skills that immigrant communities have brought and continue to bring to this country.
Finally, and most importantly, to build a new local and global culture that accepts and values cultural diversity while celebrating differences, and strengthening values of solidarity, reciprocity and community.
(Note: reviewed & edited with Julie Forbes, Oct 22 2015)
Storyteller Silvia Austerlics shares, "I am an Argentine woman living in Santa Cruz, California since 1999. I am currently reinventing myself professionally (after 10 years of working as the Latino Liaison for Hospice and Grief Support Services.) Interested in issues of diversity and inclusion from the perspective of popular education, the field of intercultural relations, and inner work."