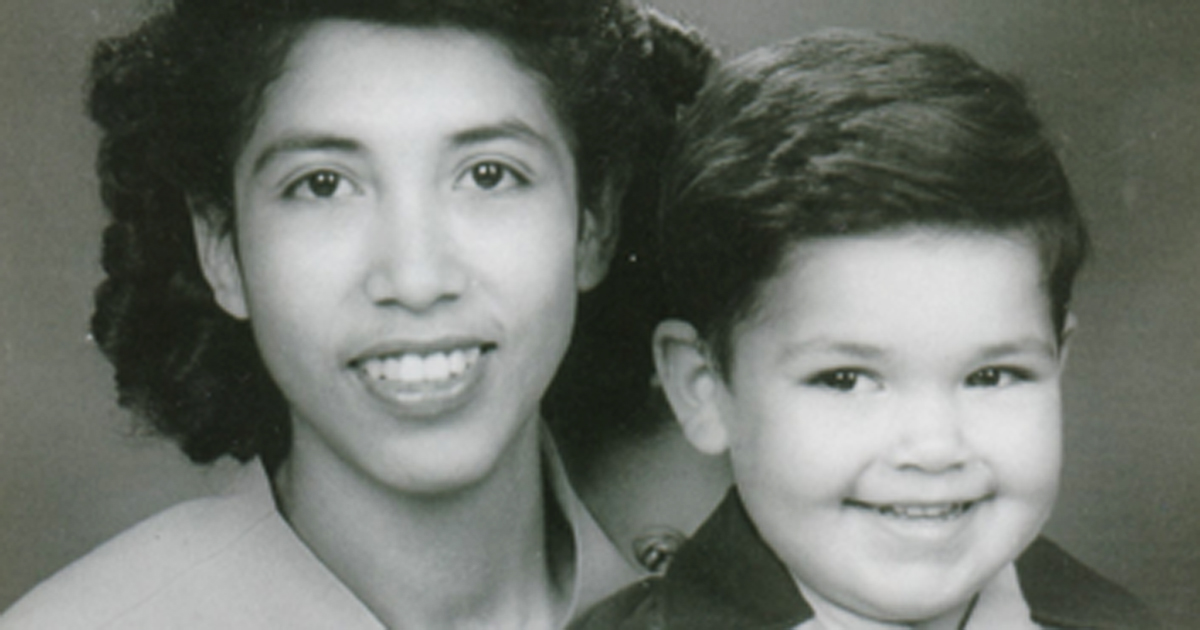 The Anglo nurse who recorded my mother's name on her birth certificate did not understand my grandmother's broken English. My Abuela Josefa Balli Martinez had named my mother, Maria del Carmen Martinez. But the Anglo nurse got it all garbled in translation and wrote down instead: Mary Coleman! That name, Mary Coleman, stayed on my mother's birth certificate for years until she had it changed.
She was born in Harlingen, Texas, a small border town in the Rio Grande Valley in 1924. The town, at that time, was equally divided along racially segregated lines between white, black and brown people. Mom was the third of six children born to Nicolas and Josefa Balli Martinez. Nicolas was very light-skinned, hazel eyes and brown hair. Josefa, on the other hand, was half Indian and very much looked like it. She had a dark complexion, long straight jet-black hair. Mom looked like her mother. She was nicknamed "La India" by her friends. But the nickname that stayed with her all her life was "La Nena" or just "Nena." She was called that because she was a "babe', a "chick" and because of her beautiful Indian features.
At that time in Texas, Mexican American children were not allowed to speak Spanish in school, not even on the playground during recess. Since most of the Mexican American kids, like Mom, grew up in Spanish-speaking homes, attending school and learning was a difficult challenge to overcome in the days before bi-lingual education. Mom finished the 7th grade and went no further in her schooling.
When World War II broke out, she started working in a cleaners pressing military uniforms and other clothes. She worked in a cleaners pressing clothes most of her working life. The years of hard manual labor operating the steam press eventually caught up with her in her old age in the form of arthritis in her back and both hands.
Shortly after the war in 1946, my parents left Harlingen and moved out to the Bay Area in California in search of better economic opportunities and to escape the oppressive racism of southern Texas at that time. But the move to the Golden State came with a price. The marriage hit on hard times and my parents became estranged and eventually separated when I was about three-years old. The photo of me and my mother was taken around that time. We were living alone, but I never felt lonely or deprived in any way.
"Because my mother and I looked so different; she with her dark Indian features and me the chubby little "white" boy, were often mistaken as not being related."
There were several occasions when strangers seeing us holding hands and walking together in downtown San Jose would remark: "Oh, what a cute little boy you're babysitting." My mother would bristle: "I'm not his nanny. I'm his mother!"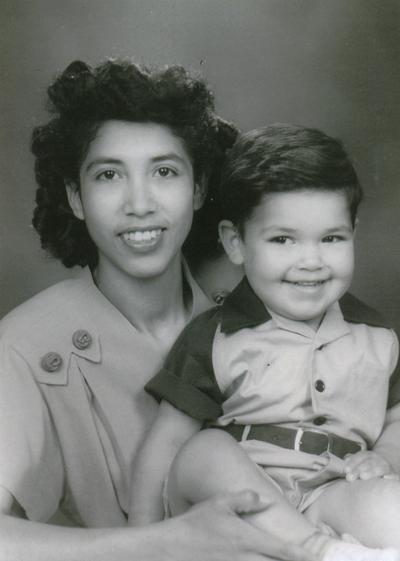 During this time period, Mom and I took a bus trip back to Harlingen. We were seated at the front of the bus just behind the driver. I had made friends with a little Anglo girl at the back of the bus who had lots of toys and we played together for quite a while. But when my mother came back to retrieve me and the little Anglo girl's mother saw my mother was obviously not white, she would not let me play with her daughter anymore. It was the first time I had ever experienced racial discrimination.
My parents got back together when I turned seven years old. But the four years of separation had formed a permanent bond between my mother and me. Years later we had long talks about our time alone together. She encouraged my love of art and writing. When the Beatles were popular, she would listen to my Beatles albums and comment on how she liked some of their music.
Mom loved her beer and her San Francisco Giants. We enjoyed many a hot summer afternoon during backyard BBQs with ice cold beer. I took Mom to the Santa Clara County Fair one warm July. We drank beer, ate linguica sandwiches and overly-cooked corn on the cob slathered in too much butter and coated with a lot of salt.
However, if I called her during baseball season and she was watching a Giant's game, she would politely tell me: "Call me after the game, mijo. I'm busy watching the game right now." She remained a loyal Giants' fan all her life.
In December 1980 it was announced during the telecast of a Monday Night Football game that John Lennon had been shot and killed in front of the Dakota Hotel in New York City. Within two minutes of the announcement, I got a call from my mother asking with much concern in her voice: "Are you okay, Bobby?" She remembered John Lennon had been a huge influence and inspiration to me as an artist and aspiring writer.
By 2019 Mom's health had declined to the point where she was wheelchair bound and was beginning to lose her cognitive skills. I was living in Texas by this time and went back to be with her as often as possible. She had become increasingly depressed. My father had died four years earlier. All her siblings were gone. Most of her lifelong neighborhood friends were also gone. She increasingly felt isolated and alone.
The last time I spent with her, we talked about so many things that had gone on in our lives. And although Mom had two other sons, many nieces, nephews and grandchildren that she loved dearly, those brief four years when we were two against the world held a special place in her heart and mind and in mine.
La Nena passed away quietly in her sleep in September 2020 at the age of 95. Because of the pandemic, I was not there when she passed away or was there for her services. But I did not feel sad or remorseful about it. During our last time together, we said all that needed to be said to each other. Nothing was left unsaid. No loose ends to be tied up. Our relationship was complete.
The four years Mom and I were alone during the separation were very special because she took care of me when I was so young and vulnerable. I remember La Nena as no one else in my family does. Over the years we shared and recalled those unique memories while enjoying a cold beer in the backyard, during private time at a family gathering and sometimes, if I played my cards right, over the phone after she finished watching her beloved Giants play a baseball game on TV.
Storyteller Roberto Leal is a free-lance writer, born and raised in the Santa Clara Valley (of California). Both sides of his family are originally from the Rio Grande Valley. He now lives in San Antonio, Texas.
Related Posts