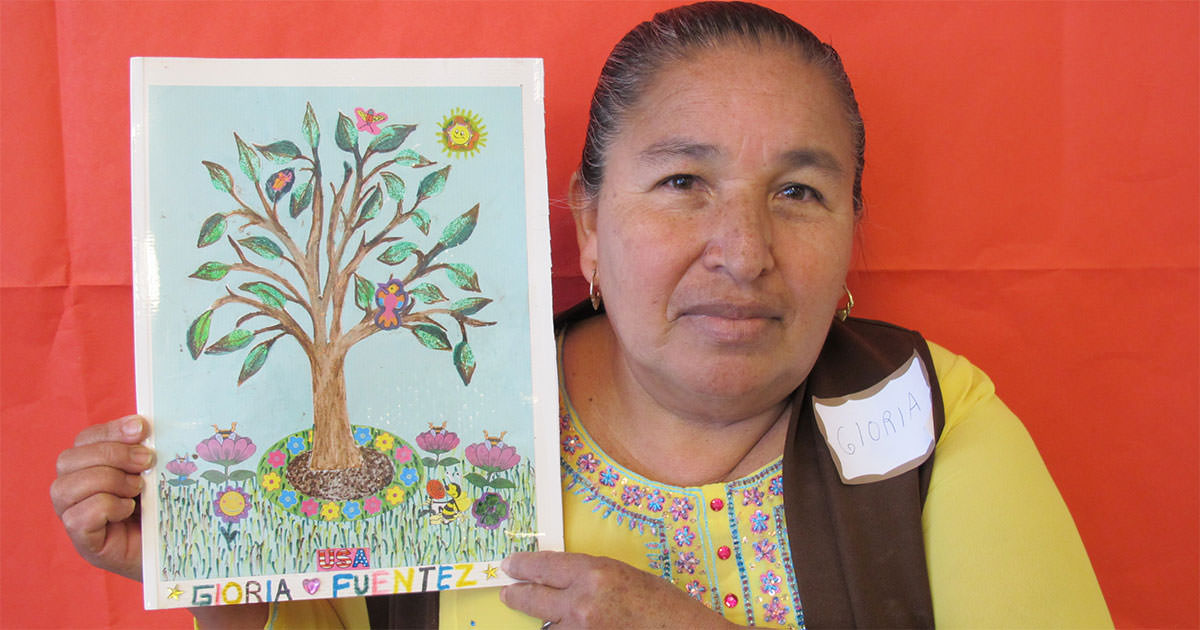 I was very much afraid, very afraid to come, nevertheless here I am. I was afraid because of what I had heard others say, and what was on the news, hearing this and that about the United States you see. Because my brother was killed in the process and since I've lived through it, it made me scared, frightened even. My brother was killed in Texas. It was a long time ago, but it seems like yesterday to me. I've not forgotten my brother even for an instant. My brother-in-law was also killed over here. So then I never wanted to come over here because of that fear I had.
But God brought me here. I say it's miraculous, truly miraculous because I was never afraid in coming here. When I was making the crossing I was never afraid of anything. I didn't feel any fear despite being told of all the things that happen in the mountains, the desert. Thanks be to God I arrived as if in a dream. I thank God I wasn't traumatized. I didn't think anything.  I asked God, and he provided.  All I asked was, "God help me." It felt as though I were asleep, as though I pretended to be asleep to not have to see but always praying. And I arrived.
We came through Arizona. I was coming from Salvatierra, Guanajuato. We came with people we knew. We were a group. We came for the adventure. To see whether we'd be helped by God, right?  I wanted to see my daughter and she wanted to see me, it had been years since we'd seen each other. Seeing the mountains frightened me and I'd say it made me think about all the remains, the bones of all who had died, and I'd get a little scared but then I'd begin again.
Something that really frightened me was when we were almost there, a plane from immigration flies over us and shines a beam of light on us and we were surrounded, and I say "We've been caught" and I think "We've been caught. I'll never see the United States." And they left and we ran. We ran into a house. I had my 14 year old son with me. Then I said to myself, "I have an angel next to me. I shouldn't be afraid. " Prayer made me strong.  I put myself in God's hands. It was sad crossing that desert. I don't remember how long it took. It was many years ago. I'm still not well from a thorn that got stuck in my left heel. I'd fall constantly. Suddenly I'd be afraid again but I'd get up. It's very sad not having papers and having to come here. So many of us, we come because of the misery of poverty to discover this country.
After all of this happened, I was happy, happy when I saw my daughter. Happy to see her! So many years since I had seen her! She had already been here between nine and ten years. Now I've been here eight years. My daughter has been here a long time not been able to go home. But I hope to God that she has luck and that soon there is immigration reform. I ask this for all the people who suffer, who come. Those people who are just starting and have the goal of coming to know the United States. I hope they're granted migratory reform, but, mainly for the youth; for their futures.
I wanted to see my daughter and she wanted to see me, it had been years since we'd seen each other. Seeing the mountains frightened me and I'd say it made me think about all the remains, the bones of all who had died, and I'd get a little scared but then I'd begin again.
Even though I've suffered here, I like the United States. I've suffered great deceptions here, huge disappointments, disillusioned by people who I've worked for. I've been treated poorly everywhere I've worked. I used to work as a cook; very sad and painful experiences. Abuses, not being given time for food breaks, people would take advantage. On one occasion I worked with a person who would drink and then would leave me to take care of the people who came in to the restaurant. She would sit there and get drunk and I'm over here making pupusas, making tortillas. In another restaurant they would hit me. In others they would steal from me. They would humiliate me, and always keep me running.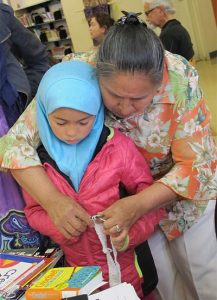 We're talking about twenty different jobs and something was always happening to me. If it wasn't one thing it was another. I felt bewitched! I began to get depressed, real bad, because of all the bad things that were happening to me. I cried a lot. I sought help, but, by the same token I didn't want to leave because I was hearing bad things about Mexico.  I began to get even more depressed. I felt even sadder. I thought, "Where will I be well? If I'm not going to be happy in my own country or here, what shall I do?" I thought, "I must try harder. My children need me because they are unmarried and they are with me." I was concerned about them.
Also I'm saddened by the delinquency here. I lost a son to it. He just got deported because of drug use. The most painful part for me is that he's locked up. My husband had to go to Mexico to a rehabilitation center to lock him up. They'd lock him up. He'd leave. We'd had him for three months. He'd said he was recovered, that he was well, but he went back to doing the same thing. He walked around like a beggar. He was beaten, he was abused and then my husband became desperate. He cried over my son. I'm calmer now that he's locked up. I've got faith and I'm giving it all I've got.
Storyteller Gloria Fuentez is a seamstress and artist who offers free weekly knitting and embroidery lessons for women and children at the Oakland Public Library. She created her story at MiHistoria's Sharing Stories of the Latina Experience in March 2014.