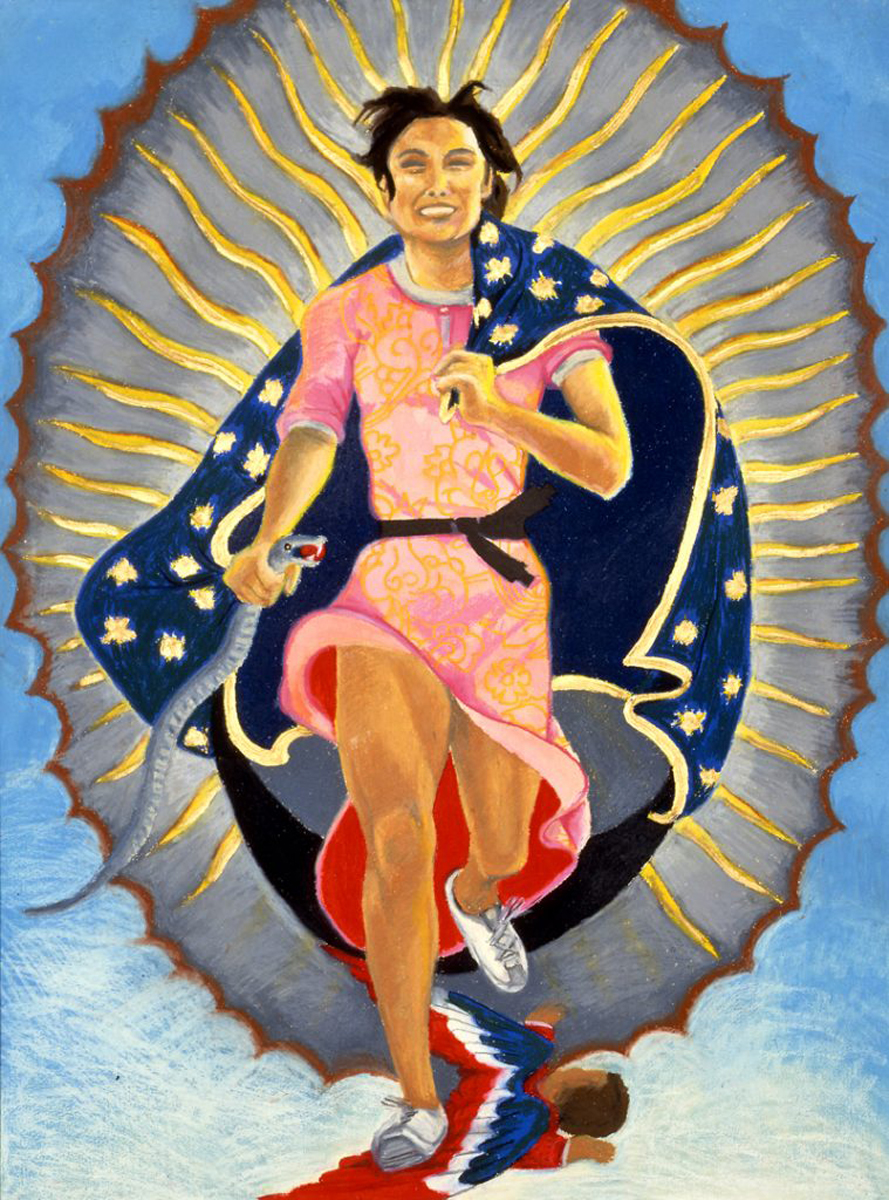 © 1978 Yolanda Lopez
Dear Friends of MiHistoria,
Today we proudly share the newest addition to our online art space El Taller MXM, The Guadalupes by Yolanda López. This unforgettable series was groundbreaking when López created it, and over the years it has become an icon of Chicana feminist art. The term "icon" is not without irony, as Lopez envisioned the work as a critique of the Virgin of Guadalupe iconography, and indeed it established her as an iconoclast in the art world. You can delve into her artist's statement here to learn more about the inspiration for the triptych and her creative process.
López modeled The Guadalupes after her grandmother, mother and herself, but she didn't intend them as portraiture. Rather, she reimagined the Virgin of Guadalupe and by extension a world where working-class women were centered.
For me, that center composition fills me with hope. I like that López is running toward me as opposed to away from me. It is an apt metaphor for Chicanas – we don't give up; we keep moving forward. What does the series spark in you?
For those of you in the San Diego, California area, the Museum of Contemporary Art San Diego will have an exhibition of a compendium of Yolanda López's work from the 1970s and 1980s running from October 16, 2021 – April 24, 2022.
On another note, López taught art at Mills College in Oakland, California. Right now, Mills is in danger of being dismantled and turned into an Institute. Mills College is the only historically women's college remaining on the west coast. Small yet mighty, Mills College needs to remain a degree-granting school and continue its mission of educating women, non-binary and transgender students, as well as graduate students of all genders. Join the effort at savemills.org or ucmills.com.
We hope you enjoy our newest addition to El Taller MXM and stay a while to read other stories while you're there.
Con cariño,
Albertina and the MiHistoria Team Laurie, Andrea, Neus, Wendy and Jennifer