or the apron and the dove…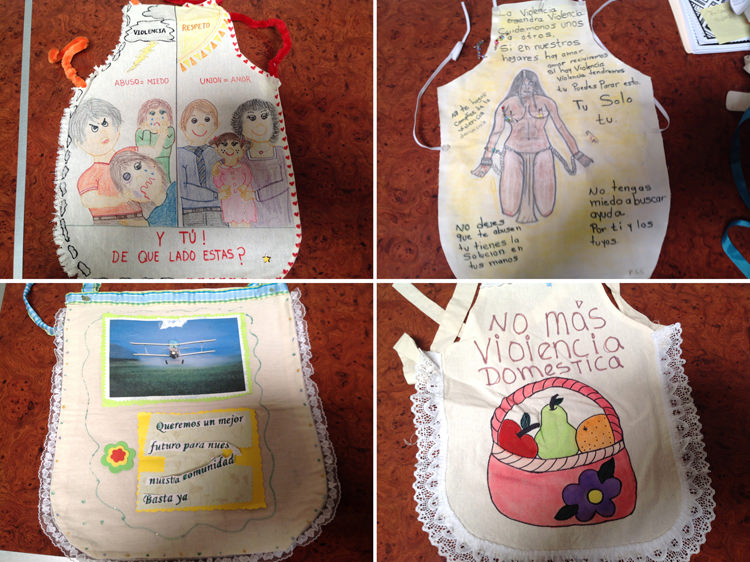 Aprons (Mandiles) made by farmworker women during leadership training with Lideres Campesinas
Published May 9, 2015 by Albertina Zarazúa Padilla
Mother, mom, ma, Madre, mamá, mamí, amá, are some of the words we use to refer to our mothers. Our mothers love us, confound us, guide us, hold us and push us into spaces that challenge and sometimes exasperate us.
They may have been outgoing and loud, or plain and unassuming but they were "ours". They may have been biological or foster, adoptive or another family member stepping up. When we were young we may have hidden behind their apron, their "mandil", with their loving hands ready to catch us, or we may have worn one if we learned to cook or bake at their side.
In El Taller we share the story of Mexican photographer Mariana Yampolsky as told through the voice of her 9 year-old granddaughter Paloma. Highlighted is her famous "mandil" photograph and information about the Mariana Yampolsky Foundation.
Over on our story page, Paloma shares how her mother went through the adoption process. Paloma's sense of self, shaped by the emotional exchanges that took place between her two mothers, laid the foundation for aspects of her personality. The loving kindness, peace and generosity demonstrated by her two mothers are reflected in the name that she is chosen to carry:  Paloma (Dove).
It's the beautiful month of May and MiHistoria honors Mother's Day, launched in 1872 to honor women's anti-war activism. Feliz dia de Madres, everybody!
Albertina Zarazúa Padilla and the MiHistoria Team
The stories that aren't being told anywhere else are here on MiHistoria
Last November on the Central Coast of California, MiHistoria held a storytelling workshop with the Board of Directors of Lideres Campesinas, a groundbreaking organization of farmworker women leaders who empower women through education and activism. Lideres Campesinas incorporate hands on creativity into their training sessions, inviting women to decorate aprons, bandannas and other utilitarian objects with their very own personal statements/messages about domestic violence, pesticides, and other issues. Learn more about Lideres Campesinas.
In January MiHistoria partnered with Chicana Latina Foundation to offer a storytelling workshop for Latina college students at CLF's Leadership Institute. As a result of that collaboration we've added new members to our translation team, Andrea Coto and Neus Valencia.
Explore these stories and more at www.MiHistoria.net. Join our story circle by becoming a supporter of MiHistoria here. Contact MiHistoria about upcoming workshops here.
A big shout out to our comadre Mily Treviño Sauceda, co-founder of Lideres Campesinas and President of the Alianza Nacional de Campesinas, who received the 2015 Cesar Chavez Legacy Award, and to our comadre Olga Talamante, Executive Director of the Chicana Latina Foundation, who was honored with IGNITE's Fems with Fervor White Hot 50+ Award.
Featured Event:  Spring & Summer "Funraising" at MiHistoria
Need an excuse to throw a Pachanga? This spring and summer we are reaching out to you to raise much-needed funds – and have fun doing it – by throwing a house party! A house party is an opportunity to gather friends and family, have a great time, talk about MiHistoria, and ask for their financial support. A house party could be as simple as a few friends around a kitchen table, or as elaborate as a backyard barbeque with a band. House parties are a proven grassroots fundraising strategy, easy to organize, and a great way to build community. If you are interested, contact us.