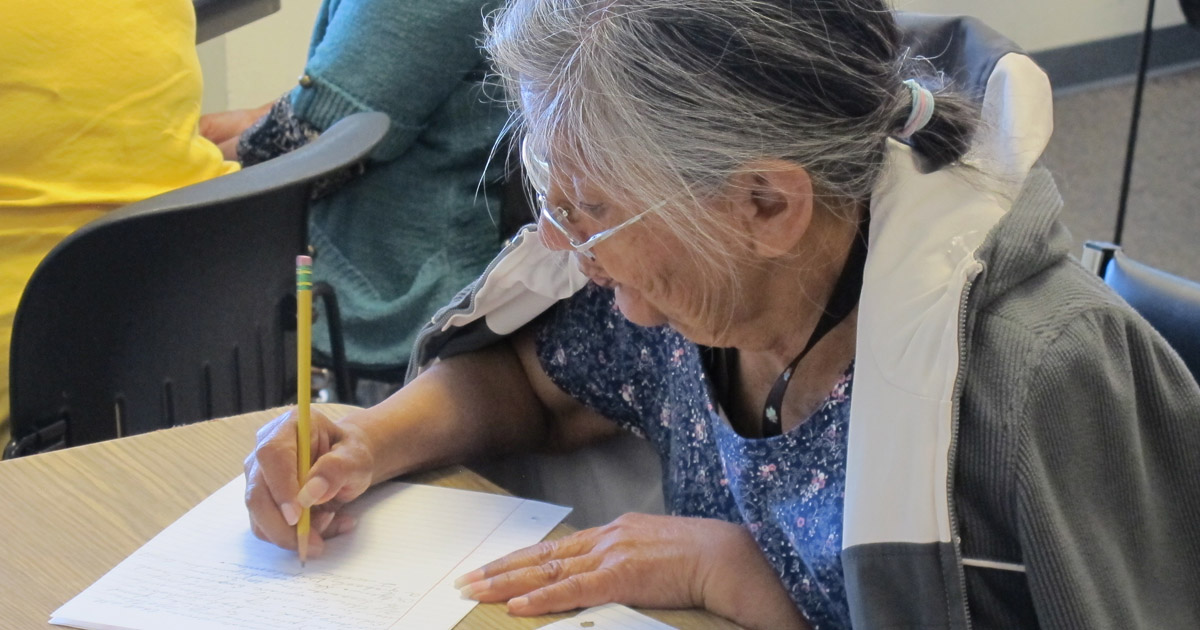 Now fully bilingual English/Spanish MiHistoria.net is more accessible and inclusive than ever. Share your own story or sit down with an important elder in your life and capture her story. We want to give a special thanks to the La Fetra Foundation for supporting this important step.
MiHistoria has been busy this past month with Women's History Month. In Oakland, we worked with art and textile collector Rita Moran to present Honoring Our Women Weavers: Maya Painting and Blouses at the César Chavez branch of the Oakland Public Library. In addition to an exhibit of Mayan huipiles and paintings, the month-long program included a storytelling workshop, marimba music, slide shows, films, testimonies, and a sale of needlework made by Latinas in the Fruitvale.
A cornerstone of Honoring Our Women Weavers was MiHistoria's Sharing Stories of the Latina Experience: A Participatory Workshop. Women wrote and recorded their stories and created beautiful drawings. Each story called forth a commitment to deep listening, respect for the teller as well as the tools she used to tell her story. Read these stories at www.mihistoria.net. A big shout out to our volunteer story coaches: Andrea Valencia, Marcy Delgadillo, Rita Moran, Natalie Sarellano and Diane Mahoney.
In San Francisco MiHistoria attended Luchadoras Sin Fronteras, a conversation between Nora Cortiñas, founder and spokesperson of the Madres de Plaza de Mayo, and Olga Talamante, Executive Director of the Chicana/Latina Foundation and former political prisoner in Argentina. The program was sponsored by the Center for Latino Studies in the Americas of the University of San Francisco and the Women's Building. Nora shared her transformation from housewife to international human rights activist after the 1977 disappearance of her son during Argentina's Dirty War. She described how the formation of a woman's community bearing witness to the repression and disappearances created a "visceral bond" that empowered the members of Las Madres to be daring and outspoken. We will be posting Nora's story soon.
In Los Angeles on International Women's Day, MiHistoria attended Identity and Power-Indigenous Women and Their Creative Praxis at the UCLA Labor Center in Los Angeles. The forum was sponsored by FIOB (Binational Front of Indigenous Organizations) and the Centro Binacional para el Desarollo Indigena, and spearheaded by Zapotec leader Odilia Romero of Los Angeles. There were panels of indigenous women leaders in academia, in business, in activism, and in literature & the arts. Their presentations demonstrated how solidarity among women of different nations, generations, and walks of life, can spark stewardship and strengthen community. To learn more about FIOB (hotlink http://fiob.org/en/quienes-somos/)
Last but certainly not least, MiHistoria welcomes translator Andrea Valencia to the team.
Read about who we are
Join our mailing list
Like us on Facebook page.
Saludos a todos,
Albertina Zarazúa Padilla and Laurie Coyle