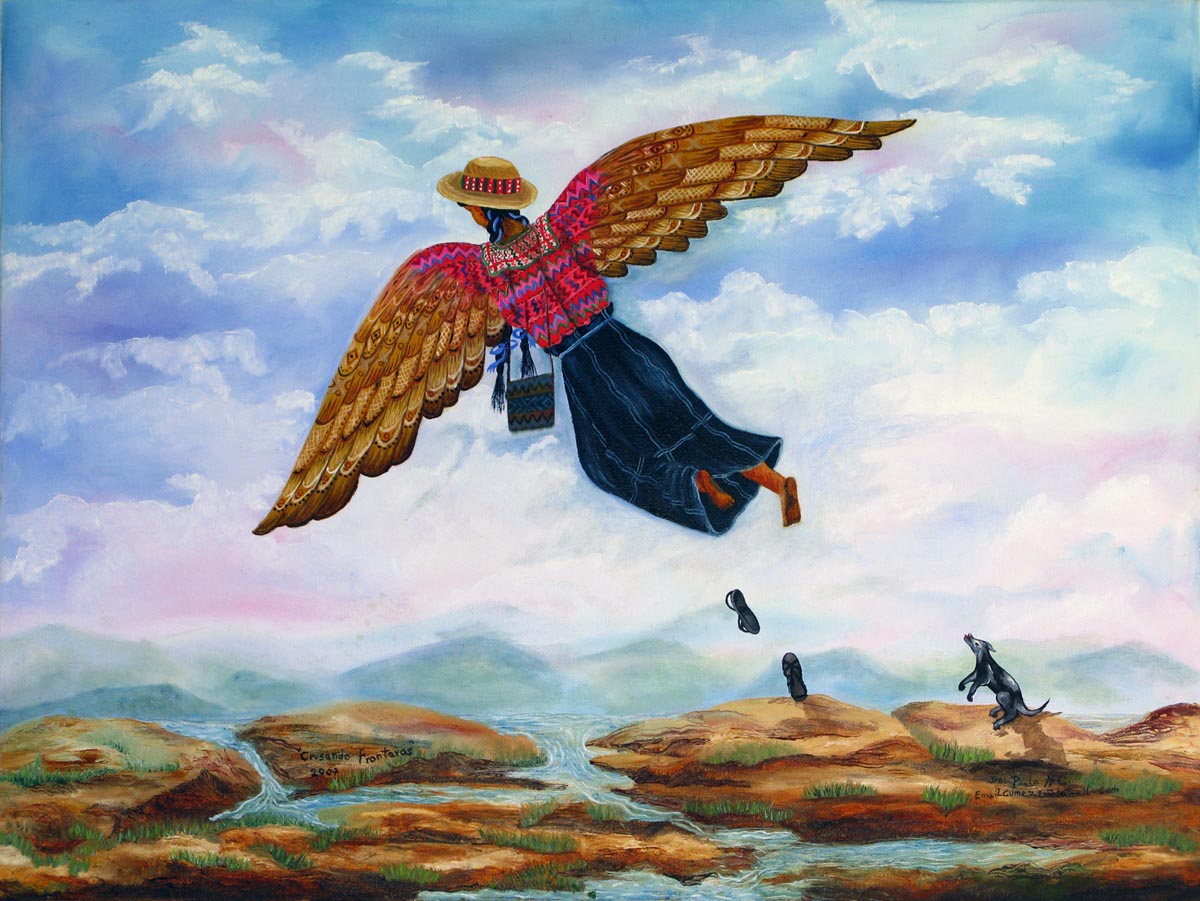 © 2013 Paula Nicho Cúmez
My story begins in San Juan Comalapa, Guatemala, on January 15, 1955. I was one of ten children and grew up in a hard working family. My father was a farmer. My mother taught us the art of weaving. She wanted us to know a craft in addition to what we learned in school. From the time I was a child, I had a great liking for the arts. In school contests, I always took one of the top places in drawing or painting. It was my grandfather, Francisco Cúmez, who motivated me to sign up for painting and drawing classes. He was a sculptor and saw something in me that he encouraged.
I began my career as an artist in 1985, and since then I've dedicated most of my time to painting. It's a way to express my feelings, ideas and fantasies. I studied with an excellent master painter, Salvador Cúmez Curruchich. I fell in love with my teacher and today he is my husband. He continues to show me a great deal about art and life. Now that I've grown and matured as an artist, I spend part of my time teaching the things I've learned. This is something beautiful for me, because I feel that I'm giving back a part of all I learned from Salvador. I've been able to share my time painting, raising my children and spending time with my friends. I think they see me as a good friend who is kind and honest.
My inspiration comes from my culture, town, life, the sacred Maya book the Popol Vuh, and our native women. Woman is the basis for society and, if this base is solid, we can use it to build a better Guatemala. One of the moments that marked me most and inspired me to struggle for the empowerment of native women was a school activity for September 15, Independence Day. We had to march in a parade in our school uniforms. My mother had woven a traditional huipil blouse for me to wear, but the teacher didn't want me to march wearing our regional dress. That hurt me a lot. I've always worn our skirts and huipiles and I'm proud of my roots.
In Crusando Fronteras, I was inspired by the lives of many women who have been marginalized, abandoned by their husbands, with family problems or lack of employment. Unfortunately, in this situation it is the children who suffer. As women, we are responsible and hardworking; and we are daring when we seek other opportunities, such as working for ourselves and our families. In this way we get relief for our lives and the lives of our loved ones. It is a journey that we undertake knowing the risks, but nonetheless decisively.
About the Artist
Paula Nicho Cúmez is an internationally recognized painter born in the Kaqchikel Maya town of San Juan Comalapa, Guatemala.  The town is home to many Maya artists—although very few are women. In 1985 she helped to form a cooperative of women painters, the Kaqchikel Surrealist Painters. During her long career she has received a number of important awards.  Her work has been published in several books, including UNESCO's Arte Naif: Contemporary Guatemalan Mayan Painting (1998) and Contemporary Guatemalan Paintings (2001). Her life inspired the prize-winning short film Del Azul al Cielo (2007), directed by Ana Carlos. Paula has exhibited her work throughout Guatemala, as well as in Ottawa, Canada; and in Berkeley and San Francisco in the U.S. She was the only Maya woman invited to the opening ceremonies of the National Museum of the American Indian at the Smithsonian Institute in Washington, D.C. (2004) and one of her paintings forms part of their collection.
For more information about this artist http://www.MayaWomenInArt.org and
http://www.artemaya.com/galpnc.html